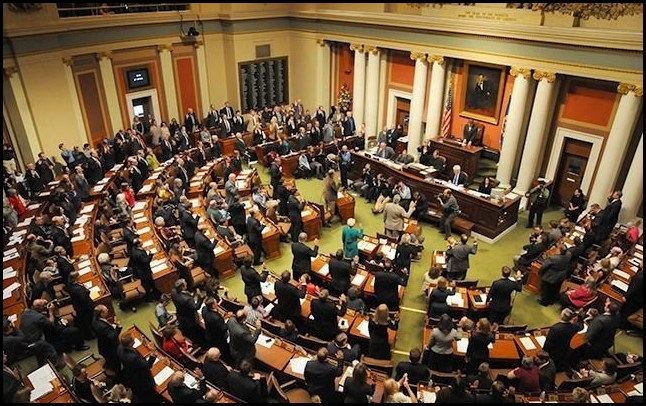 Your legislators want to hear from you! The Lawmaker Hotline is an easy and effective way for Otter Tail County lake property owners to impact legislative actions affecting life at the lake.
Otter Tail County lake property owners and Lake Associations continue to be challenged with environmental, regulatory and administrative issues. Almost always, resolution of these issues involves coordination with County, State and even Federal government departments and agencies.
Legislators at the various levels of government are anxious to hear from their constituents for their opinions and input. They publish various methods of using the phone, email and snail-mail to communicate with them. It is unfortunate when they become victims of volumes of broadcast emails and mass mailings from people who are not constituents or when they receive messages that are not relevant.
To achieve the most impact on decisions made by legislators, two general principles need to be applied when contacting them. They are TARGETING and TIMELINESS.
The first principle of TARGETING recognizes that legislators are mostly, if not only, responsive to their own constituents. The Otter Tail County Commissioners, State Representatives and Bill Ingebrigtsen, OTC's Minnesota State Senator, all provide direct access by traditional email address as well as phone numbers and complete addresses. Most Minnesota State Senators, however, only publish a link to an email form instead of to a traditional email. The form requires an address including a zip code. The address and zip code helps filter messages as coming from their own constituents. All Minnesota legislators above State Senators, including Governor Walz, require these special forms to be filled out. An important point here is that when filling out these forms the lake property address needs to be used and not the lake property owner's primary residence address, if it is different. The legislators want to be assured that they are giving priority to the positions and opinions of their own constituents.
US Representative Collin Peterson's email form requires your lake address zip code AND the 4-digit zip code extension. To find your zip code with the 4-digit extension go HERE and enter your lake address.
A second principle of TARGETING is that when communicating input to legislators, focusing on only one issue per submission is recommended. Compiling communication data by legislative staff people is a process of counting the number of messages that either support or do not support a proposition. Expressing a position or opinion clearly and concisely, for or against one proposition or request in each communication helps ensure that the staffer that receives the communication puts it in the proper pile to be counted.
TIMELYNESS is also a principle that should be applied. As propositions flow through the democratic processes at the various levels of government, there are crucial times when input is most effective in moving the needle one way or the other. Assistance from insiders close to the action is helpful to knowing when to pull the trigger on communication blitzes to the right legislators at the right time.
OTC COLA is a long-time supporter of Minnesota Lakes & Rivers Advocates (MLR). "MLR is the only advocacy group solely focused on protecting Minnesota's lake and river heritage for current and future generations by forging powerful links between lakes, lake advocates and policy makers." MLR publishes alerts to members when public input to Minnesota legislative decision makers is most beneficial. Membership cost of MLR is open and nominal for individuals as well as open to the opportunity for substantial support from large organizations who want to participate in the protection and preservation of Minnesota lakes.
Tips to remember when composing your communication:
Always reference your Minnesota lake address in every email, phone call or letter
When completing an email form, be sure to enter your Minnesota lake address
Focus on only one issue for each communication
Uniquely identify the issue as clearly as possible, e.g. Senate Bill#, House Bill#, proposition, etc.
Be selective in choosing the legislators to communicate with. To confirm who your Minnesota legislators are, go HERE and enter your lake address.
Clearly and concisely express your position or opinion leaving no doubt where you stand on an issue
Try to time your communication to achieve maximum impact on decisions

What is the OTC COLA Lawmaker Hotline?
The OTC COLA Lawmaker Hotline is a compilation of contact information for Otter Tail County legislators. Included are all of the OTC Commissioners, State Representatives, State Senator, US Representative, US Senators, Lt. Governor and MN Governor. Telephone numbers and addresses are listed. One-click emails and links to email forms are readily available for electronic expedience. Some email applications may not support the one-click email capability. If this is your experience, please contact ME for assistance.
Go HERE to get the OTC COLA Lawmaker Hotline contact sheet. Download the pdf to use the one-click email feature.

CTL-SCROLL to zoom in or out for better viewing.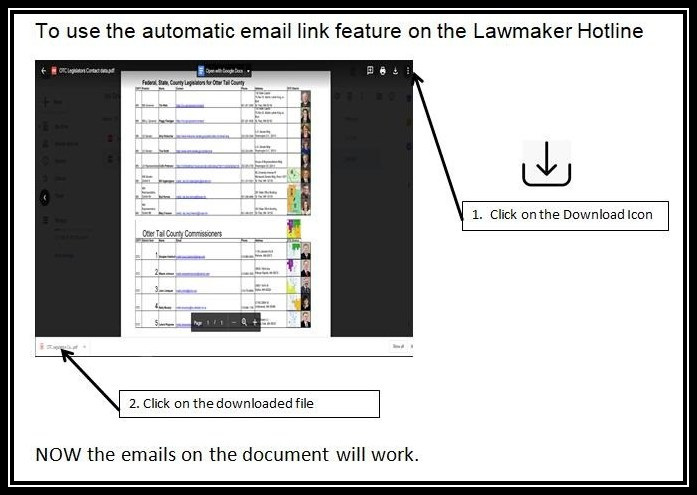 For more information: [email protected]