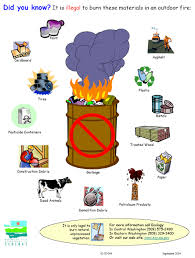 The Otter Tail County Solid Waste Ordinance prohibits the burning of all solid waste, including paper and cardboard. This also applies to burning waste in recreational campfires, fireplaces and wood stoves. In accordance with Minnesota State Statute as long as garbage service is available to residents, including farmers, it is illegal to dispose of household or farm waste by burning or on-site burial.
Punishment / Fines
In Otter Tail County, garbage service is available by contracting with a solid waste hauler or by delivering waste to a solid waste transfer site or landfill. Burning of household waste is a misdemeanor and is punishable by a fine of up to $1,000 and/or 90 days in jail.
File A Compliant
To make a formal complaint about someone burning illegally, call the Otter Tail County Solid Waste Department at 218-998-4898. Your name will be kept confidential because of the Minnesota Data Privacy Act. Information about Open Burning and an explanation of Minnesota Statutes and the Otter Tail County Solid Waste Ordinance will be sent to the resident who is burning waste. Someone from the Solid Waste Department may also visit the resident who is burning. If the person continues to burn their waste, a complaint will be filed with the Otter Tail County Attorney's Office.
Burn Permits
In most cases a permit is required from a Department of Natural Resources (DNR) Forestry Officer, your local fire department or area fire warden to burn brush or other vegetative materials. During the winter months, a permit is not needed as long as there is 3 inches of continuous snow cover. Keep in mind, the Minnesota DNR Forestry Division issues burning bans in the spring until vegetation is green and moist.
To obtain a burning permit, visit the DNR website or contact your local DNR Forestry Officer. The DNR Forestry Department may delegate authority for the issuing of burning permits to local fire wardens and to some local fire departments.