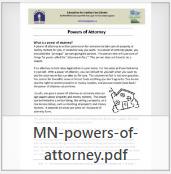 Powers of Attorney
A common provision in Bylaws of lake organizations is a restriction regarding eligibility to vote as a Member, hold positions of Board Member or Officer, or participate as a member of a Committee. The restriction can be based on the Member being registered as the legal owner of the lake property. For various reasons the legal owner may desire to designate an appropriate person to represent him to the lake organization. An example of this situation would be a senior who is still registered as the legal owner who wishes to have a son or daughter have the opportunity to represent him to the lake association. It is understandable for Bylaws to assist in controlling participation provisions to restrict the democratic process to persons who have an inherent interest as a property owner on the lake.
A power of attorney is written permission for someone to take care of property or money matters for you, in whatever way you want. In a power of attorney document, you are called the "principal" (person giving the power). The person who will take care of things for you is called the "attorney-in-fact." This person does not have to be a lawyer.
A Member of Record of the lake association may appoint an Attorney-In-Fact to possess Powers of Attorney in all matters to which said Member would otherwise be entitled to, including those as a Member, member of the Board, Officer or member of any Committee for the Association.
The Attorney-In-Fact must be a person at least eighteen (18) years of age, possess an intimate relationship to the Member and be in a position to act in the best interest of the Member.
Assignment of Powers of Attorney in matters must be consistent with the intent of the provision as interpreted by the Board of Directors and will require approval of the Board. Such approval not to be unreasonably withheld.
Registration of Member Powers of Attorney requires filing of a Power of Attorney Form with the Secretary.
Though the Attorney-In-Fact will be recognized by the Association as the official Member of Record, receiving official Notices, etc. instead of the Principal, this does not preclude the Principal from acting on his/her own behalf, superseding the authority of the Attorney-In-Fact.
Helping Minnesotans solve legal problems website– Power of Attorney
Member Proxy
A Member may appoint another Member as Proxy to act on his/her behalf at any Regular or Special Meeting.
An organization Proxy Form must be submitted, approvals obtained and all signatures affixed prior to the Meeting.
Handling of Member proxies at Member meetings are prescribed in the Board of Directors Handbook
Power of Attorney / Proxy Forms for lake organizations