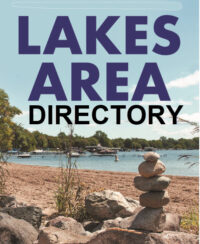 It's Not Too Early- 2023 Directories
It's not too early to start thinking about how 2023 Lake Association Directories can help lake property owners cope with these trying times.  Enhanced Lake Association Directories can make a profound contribution to raising the spirits of friends and neighbors at the lake.
The COVID-19 pandemic and the widely polarized political climate has had devastating effects on what we do and how we think. We are all yearning for what we remember as being "normal". We are anxious to move on to a more positive view on living. In the midst of our current doldrums there exists an opportunity for Lake Associations to take the lead in contributing to the well-being of lake property owners.
Lake Associations by definition are lake property owners joined together for preserving and enhancing enjoyable living at the lake. Not only are there programs and education focusing on healthy lakes but there are also opportunities for networking and socializing, uplifting life experience.
More than ever, now is the time for Lake Associations to reach out to their Members and potential Members. Methods currently used include meetings, annual Directory books, newsletters and social media. Most common are printed annual Directories because they are traditionally more universally accessible.
A review of existing Directories being published now shows that what is commonly included are names and lake addresses of property owners, Association programs and listings of Officers, Directors, committee chairs, etc. Advertising ads are often included to finance creation and production of the books. A missed opportunity is not creating Directories that are more attractive and engaging to property owners and that maximize the enticement of advertisers to buy ads.
Current Directories focus largely on reference information for readers to access when they have a desire to search for a neighbor or to see listings of Association Officers, Directors or Committee Members. Often not enough emphasis is given to energetically promoting Association programs, benefits, events, etc. Increasing the "WOW" factors that celebrate living on the lake will reenergize the life experience we all yearn for.
A new system has been developed to create Enhanced Lake Association Directories. The innovative system is based on experience and expertise compiled from research of existing Directories and actual creation and production of recent Lake Association Directories. The full-service system provides a cafeteria-style approach to content and can accommodate all budget constraints.
A new look at Lake Association Directories is an opportunity to revitalize interest in living at the lake and to take pride in contributing to the well-being of friends and neighbors.
For more information go to Enhanced Lake Association Directories
John Kruse